Welcome to Dreams Apartments Katelios Santa Barbara Beach
In the beautiful location of Elios by the beach of Saint Barbara where the sand shelves softly into azure waters you can enjoy the beautiful views and famous Santa Barbara sunsets.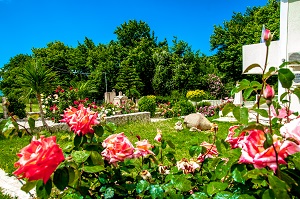 Dreams Apartments located on the southeast side of Cephalonia in Katelios. Just 50 meters from the beach of Santa Barbara with panoramic views the Ionian Sea and Zante. Next to a 150 years' environmental footpath with continuous flow winter and summer, the footpath takes you to the main road and the beach of Santa Barbara. At Dreams Apartments you will find a choice of studios and apartments. The rooms are fully equipped and are offered to families and couples.
The Dreams Beach Bar is ideally situated by Santa Barbara beach and front of Dreams Apartments. The family run restaurant bar offers breakfasts,lunch and dinner. As a family we are committed to Greek traditional hospitality and food. This means we use only top-quality ingredients prepare simple, traditionally and well. Our vegetables are organic and from our own garden. Our meat and fish are all sourced locally. And we offer delicious locally produced wine!
Our family is always available there for you to satisfy every desire, so to ensure you a pleasant and relaxing stay. Visit the further modules and informed with the additional benefits and services of rooms.